Best 3DS Max Training Course in Delhi- The Best Option for 3D Design Professionals
To become one of the successful 3D artists, you have to undergo 3DS Max Training in Delhi. You will learn to use the robust toolset of 3DS Max.
Learn 3DS Max Course from Pepper Animation Institute, Share your details from given Query form: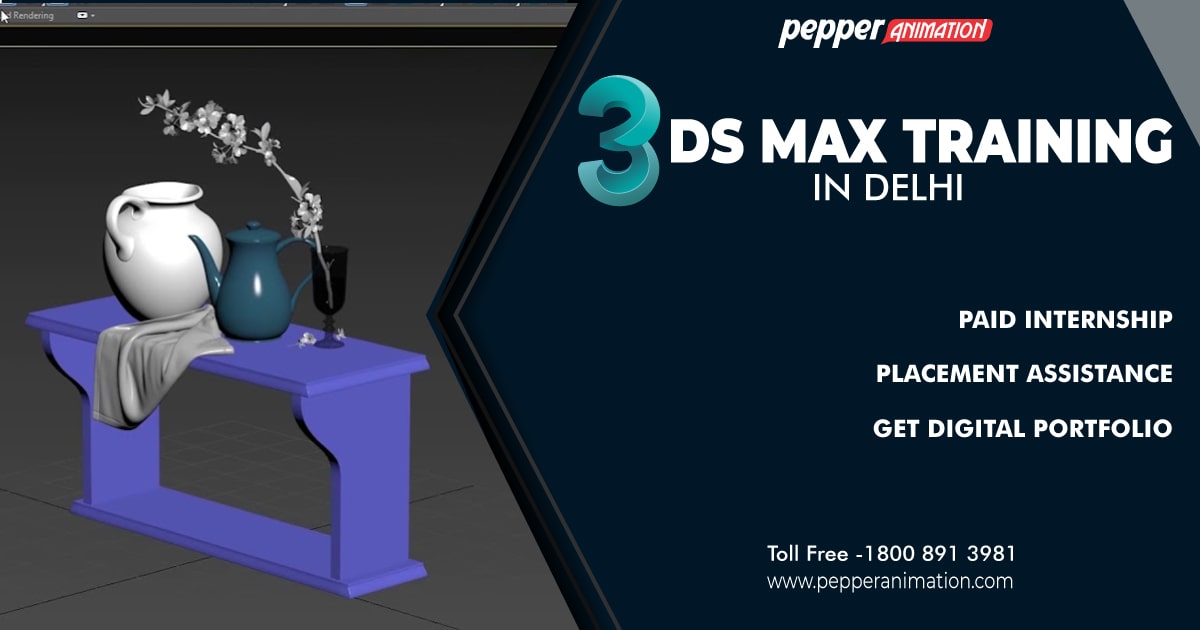 Do you have an interest in creating digital images, animations, and 3D models? Then, you need to learn the use of 3D software programs to create the best output. Designed by Autodesk, 3DS Max is a useful application for interior designing, gaming, movies, engineering, and ads. As a 3DS Max software user, you will get several career opportunities.
Thus, to become one of the successful 3D artists, you have to undergo 3DS Max Training in Delhi. You will learn to use the robust toolset of 3D Max.
The primary focus of the 3DS Max course is on-
• Texturing
• Modeling
• Lighting
• Rendering
• Materials
These things are significant in the field of cinematography and virtual photography.
Who can use 3DS Max?
Game asset artists and architectural artists can choose 3DS Max Course in Delhi. However, other professionals may also use the software for animation and rigging purposes. Animation professionals who need to create commercial 3D motion pictures and high-end films can use the software.
Using bone constraints, kinematics, and skeletons, artists may animate any characters with a few clicks. By key framing bone properties, you can create complicated motion.
While undergoing the training, you will learn about different subsystems to animate character models.
Charterer Studio and CAT are two subsystems available for you. Each of them is customizable with different applications. These subsystems also work with motion-capture file formats.
Is 3DS Max training beneficial to you?
When you have learned the use of 3DS Max, you may apply the software in the modern video game industry. It will be easy for you to create animations and 3DS models. There are innovative modeling tools helping you to maintain workflow.
Moreover, you may add special effects to your films. From rigging to modeling and rendering, 3DS Max is the perfect companion for professional animators. Produce quality animations using the applications.
3DS Max software is also useful for graphics development. Create organic and mechanical graphics using the program. Besides, the architectural and rest estate industries rely on this software to create images of different structures and buildings. Thus, you may apply for a job in architectural companies by learning 3DS Max.
Pepper Animation is the best 3DS Max Best Training Institute in Delhi. It has a team of reliable trainers who help you learn the use of this 3D design software. Check out the course details and register for it.




Advanced Diploma Certificate